A Storified Marketing Agency in Indianapolis
Find the
right words


to land the

right clients
so your business actually grows.
Build a Website That Sells
Just because your website or brand is pretty, doesn't mean it will grow your business.
People buy things based on the words they read or hear. Until you find the right words, your marketing efforts will continue to cost you more money than they make. Which leaves you…


Scraping By



Uncertain of Your Future



and Frustrated
Only 33% of businesses survive beyond 10 years
You deserve to be one of them.
When your marketing starts with the right words, your business will grow.
Creating a clear marketing message with the right words isn't some magical process. When you have a guide with a proven framework, the right words come to the surface.
Get More Leads
When your marketing invites prospects into a story, they view you as the guide to help them win.
Get Better Leads
You don't just need more leads, you need better leads. The right words draw the right clients.
See Real Growth
With more of the right leads, you'll enjoy watching your business grow in the way you've always dreamed.
"When small businesses grow, communities thrive."
Helping small businesses grow is about more than profit. When businesses grow, they hire more people and pay them better. Those people go out and buy things and support other charities, improving the communities they live in.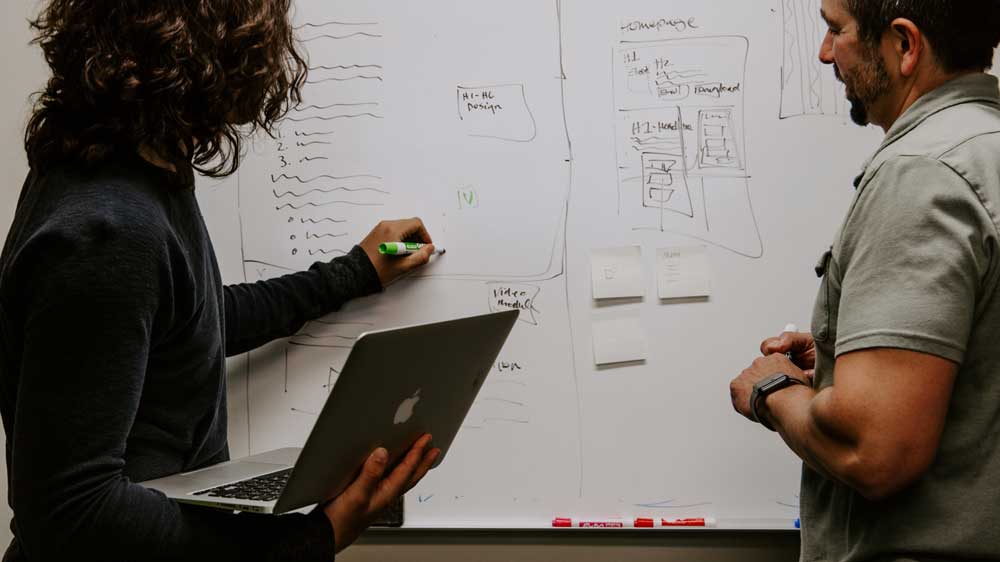 Taking the first step to a thriving business is simple
Branding strategy is more than a beautiful logo, it's how people talk about you. We help you find the right words so people talk about you the way you hope they will.
1. Schedule a Call
Set up a brief introductory call by phone or Zoom so we can learn how we might help you grow.
2. Select a Plan
We will customize a plan that fits your goals and budget so you get exactly what you need to grow.
3. Execute & Grow
Put your new messaging, website, and sales funnel to work so your business actually grows.
A taste of what it's like to work with us...
Marketing Should Grow Your Business. Period.
The money and time you put into marketing your business should grow your business. Plain and simple. The problem is, too many business owners hire marketing agencies that create beautiful brands and gorgeous websites that fail to actually bring in new clients and make you money.
There is nothing more frustrating as a business owner than to waste money on marketing that doesn't work. Money burned in the fire of social media marketing, pay per click (PPC) advertising, and more.
If you don't have the right words, nothing else you do will matter.
At Moonflower Marketing in Indianapolis, we know the foundation of everything you do to market your business is in the words you use to talk about your business.
We help you find the right words to land the right clients. Then, we build the rest of your marketing on that firm foundation.
Here's how we do it.
First, schedule a free discovery call so we can get to know you, your business, and your goals.
Second, we help you clarify your message using a proven framework based on elements of storytelling.
Finally, we'll implement your new message into your website and marketing collateral, so your business actually grows.
Don't waste valuable time and money on just making all your marketing collateral pretty. Ensure it is all built on the strongest foundation of a clear and compelling message.
Schedule a free discovery call now and take the first step to grow a thriving business.
By the way, in addition to making sure you have the right words to land the right clients, we'll also make sure you look good too.
A Simple Process to a Marketing Funnel That Works
Often, the following is the order we follow when working with clients. However, if your branding and messaging are set, you can always skip ahead. Our services include:
Intro: Graphic Design
If you don't have a strong visual brand, it might be best to start here. While people buy things based on words they read or hear, having a great logo and brand takes everything to the next level.
Step 1: Brand Messaging
Nothing is more powerful in the human brain than a story. So, the first thing we do is lead you through a brand messaging session to develop your clear brand story. In Indianapolis? We can do this in person with your team!
Step 2: Website Creation
Next, we take your new messaging and wireframe each page of your new website so every page invites your customer into a story. Then, either we build your site or your current web designer does.
Step 3: Lead Generation
Your brand is only as strong as your email list. So, we help you craft a lead generator for your website that collects names and emails of potential customers.
Step 4: Email Nurture Series
Now that your email list is growing, we help you map out and write an email series that keeps you top of mind for your potential clients or customers.
Step 5: Sales Email
After nurturing your prospective clients for a time, it's time to turn them into paying clients. We help you write a sales email or sales email campaign to move them to action.
Frequently Asked Questions from businesses we've worked with.
What is the difference between Branding and Marketing?
The easiest way to view the difference is Branding is how people feel about your brand and Marketing is positioning your brand as a solution to a problem your customers need to overcome, so they want to buy what you sell.
What is Brand Messaging and how will it grow my business?
Brand Messaging is the foundation of any good marketing strategy. It is how you and your customers talk about your business.
Other agencies in Indianapolis and around the country often skip brand messaging. We start there using a narrative messaging framework that utilizes storytelling elements to position your customer as the hero in a story and your brand as their guide.
Your customer wants something, but they have a problem preventing them from getting it. Your brand is there to be the guide that helps them overcome their problem and win the day.
Too many marketing companies skip this step, and it's the most crucial step in the process.
Is Brand Messaging or Visual Branding more important?
We see them as equal partners. To be sure, people buy things based on the words they read. However, if the words they read are not presented in a way that is aesthetically appealing and easy to consume…they might not read them.
That being said, we start with Brand Messaging and then move on to visual branding when a client needs both. If you already have an established visual brand, we'll go through brand messaging and buzz by visual branding if it's not needed.
What is the benefit of good copywriting?
Copywriters aren't poets. Copywriters are people who are skilled at taking just about any idea, no matter how complex, and putting it into clear language your potential customer understands.
They take your product or service and put it into words your customer quickly will understand and cause them to want to purchase or hire you.
Can you help with our social media presence?
One of the greatest benefits of our Brand Messaging Guides (results of your Brand Messaging Session) is it gives you a roadmap for what to talk about, and how to say it, on your social media channels.
Never guess again what you need to post about on social media.
Can you build me a new website that ranks on Google?
Short answer…probably. While we regularly have success getting clients' websites to increase in search ranking through various SEO practices (Search Engine Optimization), we make no promises you'll rank #1 or on the first page.
A lot of that has to do with your target market and how saturated it might be. If you're a brand new attorney trying to break into personal injury law, ranking on page one is going to take a while. We can, however, help you develop a plan to get there. It just won't be an overnight success.
Is email marketing dead?
Heck no! Email marketing is alive and well. Building a robust email list is like having money in the bank. We help you map out what lead generators might be valuable for your clientele and work with you on effective sales and nurture email campaigns.
What is a lead generator and why do I need one?
A lead generator is an asset you essentially give away on your website for the low cost of someone's name and email address. It has a strong title that leaves your customer wanting to know more and is very valuable once they receive it.
By offering a lot of value to your potential customers, you're creating a sense of "reciprocity." They feel like they benefited so much from your generosity they need to hire you to return the favor.
A lead generator can be a lot of things. An email series, a PDF, a video series, a small course, a webinar, etc. Anything that provides a lot of value and delivers you an email address in return.
How does Moonflower Marketing approach website design?
The purpose of your website is to be your 24/hr sales associate. It should work for you even when you're not working. We write and design your website to be simple, and clear as to how your product or service helps your customer overcome their problem.
Simple words. Simple design. Always move the customer toward action (hiring you).
Can you help with content marketing?
Yes! Our Brand Messaging Guide we create for you will be the foundation of content marketing for your small business. It will be a road map for how to create effective content that always connects with your audience.
Can you make my marketing cheaper?
The most cost-effective marketing is marketing built on the foundation of a strong brand message.
When you run social media ads, PPC, or any other marketing, you want the target audiences clicking on them to land on a page that speaks to them and the problem they are experiencing.
When that happens, more clicks convert, and your marketing dollar goes farther.